https://sale.aliexpress.com/__pc/v8Yr8f629D.htm
Free ReturnSellers that offer 'Free Return' service will have 'Free Return' icon on their item details page. With 'Free Return' service, you get 15 days (on top of the on-time delivery date) to decide if you want to keep or return the item for any reason, as long as they are unused, unwashed and in their original condition – complete with the original packaging, tags, etc. It's easy and fast:Easy• Return items locally and easily: 1) Get the return code or label, 2) wait for door-to-door pickup service or take your package to the designated service point and, 3) lastly, wait for the local warehouse to confirm receipt of your returned package.• Remember to select 'Return Goods" while opening the dispute.Fast• Refund will be made to you once we confirm receipt of your returned parcel which meet the conditions for reimbursement.• Items will be processed at a local warehouse, instead of being sent back to the seller's country of origin (eg China).Service Scope• Not all countries have Free Return service. At present, supported countries include the mainland territories of the United States, Canada, Australia, United Kingdom, France, Spain, Germany, Russia, South Korea, Saudi Arabia, UAE, Italy, Netherlands, Poland, Brazil and Israel.
• In addition, not all products on AliExpress.com include the Free Return service. The seller can choose whether or not to offer this extra service. Sellers that offer the Free Return service will have a label or icon on their product details page confirming this service is available.Return Shipment Fee• Returning packages via a designated local return service point or via a door-to-door pickup service is free.
• Note: You can only enjoy one-time free local return for one order. If you initiate multiple return requests under an order, you can only enjoy the free local return service once, and other return requests can still enjoy local return service but you will have to cover the return shipping costs to the designated local return address. Therefore, please consider returning jointly the products to avoid paying that additional shipping cost.
How to use Free Return for buyers from US/CA/AU/GB/DE/NL/IT/IL?
With AliExpress 'Free Return' service, you get an extra 15 days (on top of the on-time delivery date) to decide if you want to keep or return the item for any reason. It is totally free.
Below are detailed process for Free Return:
Step 1. Open dispute as «Return Goods» correspondingly.
Step 2. Your return request will be verified within 2 days.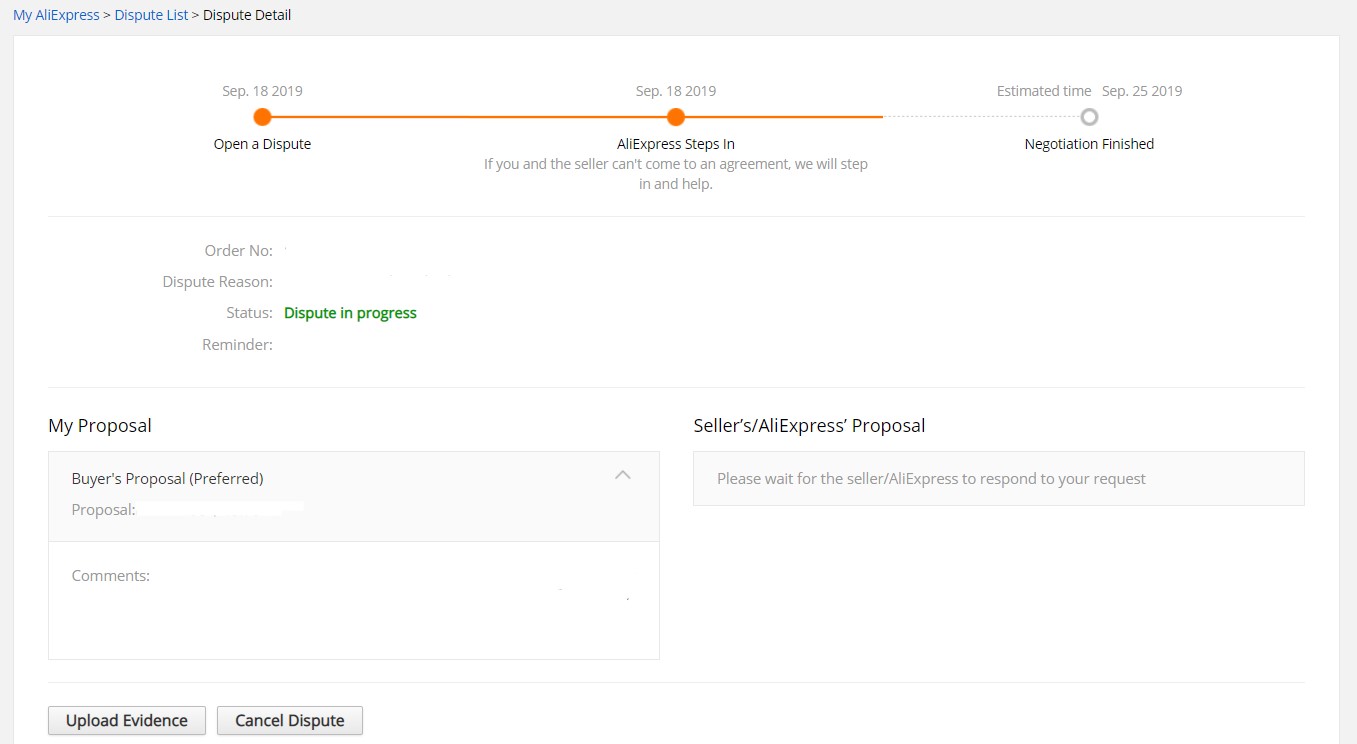 Step 3. Once after your return request is approved, click «Get a Free Return tracking number» button at the dispute page within 5 days to get the unique Free Return label in time, if not, your case will be closed as 0 refund directly and there won't be more opportunities to reopen the dispute case.
Step 4. Download and Print the Free Return label.
Step 5. Pack your returned parcel securely.
Step 6. You must return the parcel with the returned goods and the printed Free Return label to any designated return point within 15 days from the day you receive the return shipping label. If the shipment is not delivered within delivery time, the Free Return label will be canceled. The sooner you complete the return, the sooner you get the refund.
Step 7. Forward the Free Return label with the returns to the office clerk.
Step 8. Wait for your refund, which will be given once we have checked your item(s).